In order to be able to use your general agreements for rail with Lanes & Planes, please provide us with your BMIS* (bahn.business) number.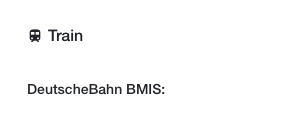 *Important: If you used Deutsche Bahn corporate client portal for your bookings in the past, you need to fill out the following application to allow a booking via Lanes & Planes https://www.db-partner.info/drittsystem/index.xhtml.
Fill out the first page (according to requirements) and select "BIBE" > "Lanes & Planes" on the second page.
You will receive an additional BMIS number from Deutsche Bahn, which will be stored in your company account at Lanes & Planes.