In the Lanes & Planes mobile app, you can view the current status of your flight, including the terminal, gate, aircraft type, baggage carousel and possible delays.
Each flight booked through Lanes & Planes is registered and receives regular updates as they become available.
Flight tracking starts at the earliest 24–48 hours before the scheduled departure time. Some information (such as baggage carousel and gate) is only available immediately before departure or arrival.
Flight status
For each flight segment of your journey, you can now find flight status information directly within the journey.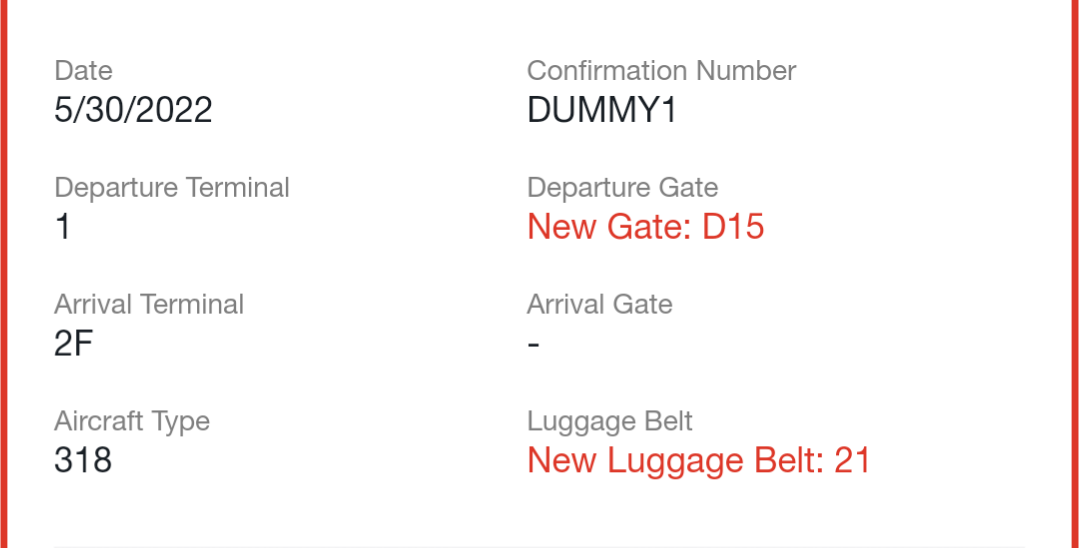 If the departure and/or arrival time changes, the new times are shown in red. In addition, you will receive a note above the times indicating that the schedule has changed.
Any gate or terminal changes, as well as baggage belt and aircraft type changes, are also displayed in red. Thanks to permanent synchronization between Flightview.com and the Lanes & Planes app, your flight status is always up-to-date.
If you allow the Lanes & Planes app to receive notifications (iOS and Android), you will be informed of updates automatically and at any time, f.e. like this:

Please note that the information is not provided by Lanes & Planes and therefore no liability can be accepted in the event of missing or incorrect information. The information is not binding and may change at any time.