In case you would like to change your seat for a train booking with Deutsche Bahn or if you wish to sit next to another traveler booked by Lanes & you have the option to change your seat reservation before departure.
On part of Deutsche Bahn the change will be for charge: 4,50EUR per change of seat.
Kindly note that your original seat reservation can not be cancelled or changed as the seat has to be booked again. If you wish to book another seat instead please open the following link:
Seat reservation Deutsche Bahn
Our Support Team will take care of your request.
This link will also be available right at the end of every train booking in the Lanes & Planes tool.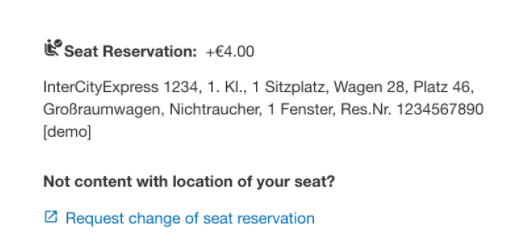 If you have any questions please send us an email: service@lanes-planes.com.